Oftentimes in the beauty world we hear about facial symmetry. That's because the human eye views facial symmetry as attractive. We can often help men and women achieve this appealing facial balance with cosmetic surgery or using dermal fillers like Juvéderm® at our Baton Rouge practice.
What does it mean if your face is symmetrical?
There are different ratios in the face that you should maintain: one third upper face, one third middle, and one third lower. In plastic surgery, we want proportions like an upside-down triangle with the largest section of the triangle being just below your eyes, in the cheekbone area, tapering down into the chin. Sometimes people are unhappy with their lower face, especially chin area because of the lack of balance with the upper face.
How do I fix my uneven lower face?
There are a few different options to balance the lower face.
Chin
When thinking about the chin, your nose and chin should project out of your face equally. Many people wish their chin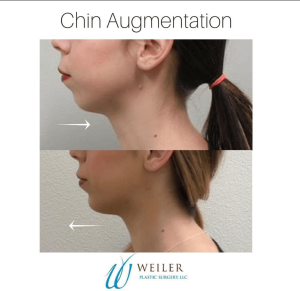 was more pronounced. At Weiler Plastic Surgery, the surgical option we recommend is often a chin implant to improve projection. However, I often say, "Try it on." Meaning, if you are unsure about surgery, you can "try it on" with dermal filler, like Juvéderm Voluma®, to see if you will like the way a chin augmentation would look. You can read more about chin augmentation options in my related blog post.
Jawline
Another option to add more symmetry to the face is to slim the jawline. Many times females believe that their jaw is too bold. To combat this, I often prefer to recommend BOTOX® in the masseter muscle and add filler in the jawline to smooth the area.
The dreaded double chin is something that many of us struggle with. Unfortunately, there is not a workout or diet you can adopt to get rid of the double chin. KYBELLA® is a option to consider for slimming the neck area. KYBELLA essentially melts away the fat that is stored underneath your chin. Often, patients want to use KYBELLA to slim the neck and do filler in the jawline to make their jawline stronger.
How can I improve my facial balance?
The face is all about proportions. The goal is for the largest volume in the face to be in your midface and then a slight lessening as you progress down to the lower face. At Weiler Plastic Surgery we believe in providing subtle and natural-looking cosmetic changes that keep everyone wondering what you did to look so amazing!
For more information or a customized consult to learn about the best treatment path for you, contact our cosmetic surgery office in Baton Rouge at (225) 399-0001 or use our online form to request a consultation! We have five convenient locations in Baton Rouge, Hammond, Covington, and Denham Springs.
Resources: