LA Office
Weiler Plastic Surgery
4212 Bluebonnet Boulevard Suite A
Baton Rouge, LA 70809
Phone: (225) 399-0001
Mon - Thur: 8:30 a.m.–5 p.m.
Fri: 8:30 a.m.–4 p.m.

LA Office
Weiler Plastic Surgery
42078 Veterans Avenue Suite H
Hammond, LA 70403
Phone: (985) 902-7770
Monday - Thur: 8:30 a.m.–5 p.m.
Fri: 8:30 a.m.–4 p.m.

LA Office
Weiler Plastic Surgery
921 South Range Ave
Denham Springs, LA 70726
Phone: (225) 900-7002
Monday - Thur: 8:30 a.m.–5 p.m.
Fri: 8:30 a.m.–4 p.m.

KYBELLA®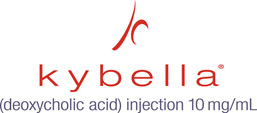 When you look in the mirror, are you constantly staring at that double chin? KYBELLA® is the first and only FDA-approved injection to improve the appearance of moderate to severe sub-mental fullness. This product, made of deoxycholic acid, is injected under a patient's chin to destroy fat cells in order to minimize the appearance of your double chin.* This procedure typically takes about two treatments, lasting about 20 minutes each.
How KYBELLA® Works
KYBELLA® has an active ingredient that aids in the destruction of fat cells.* This product is indicated for use to the area under the chin, called submental fat, and also, more commonly known as a "double chin." Does this stubborn area bother you? If so, maybe it's time to try KYBELLA®.
You don't have to let genetics or your past weight concerns win the "double chin" battle; you have the ability to take control of how you look. With this innovative and simple injection, you can fight of stubborn under-chin fat that leads to the "double chin" look. No matter how hard to workout or how well you eat, sometimes this fat accumulation is simply impossible to avoid. But you don't have to worry when you opt for Kybella treatments at Weiler Plastic Surgery. You'll see substantial results* that will have you saying wow when you look in the mirror.
KYBELLA® should always be administered by a health care provider.
The Procedure
Before the Procedure: Prior to injections, your provider will mark the area for injections and apply a temporary grid to facilitate equal spacing between injection sites. In addition, ice packs may be used to help minimize any discomfort you may experience. Dr. Weiler's Physician Assistants, and the staff at Weiler Plastic Surgery, will make your time with us as easy and comfortable as possible throughout the entire process.

The Procedure: At each treatment session, a series of small injections are administered under the skin to improve problem areas below the chin.* KYBELLA® is a simple, non-surgical treatment, and there is minimal recovery or downtime. Each treatment should be spaced at least one month apart.
After The Procedure
Immediately following injections, it is best to avoid strenuous exercise or alcohol. You may use ice around the injection sites. In addition, your health care provider may discuss avoiding using any NSAIDS, such as Motrin or ibuprofen, for a day or so to help reduce downtime.
Results
Results are not immediate. The most common side effects of KYBELLA® include swelling, bruising, pain, numbness, redness, and areas of hardness at the treatment site.
Dual Board-Certified Plastic Surgeon
Dr. Jonathan Weiler
Extensively trained and experienced in cosmetic surgery of the face, breasts, and body, Dr. Weiler takes pride in bringing state-of-the-art techniques to his home state of Louisiana. His genuinely caring personality enables patients to connect and share their concerns with him for truly personalized results.
With a rare combination of exceptional credentials and a down-to-earth, caring personality, Dr. Weiler transforms aesthetic visions into reality. He offers procedures for the face, breasts, and body, including specialized techniques that minimize pain and recovery time.