The importance of the chin is gaining popularity in the world of aesthetics. An under-projected chin is a weak chin, causing a skewed profile with a less defined neck and jawline.
Dr. Simon Ourian says it best: "A person with a stronger chin is perceived as a stronger, smarter, and more of a go-getting type of person. It's no coincidence that Batman, Superman, and most successful Supermodels all have this characteristic."
Physician's Assitant, Taylor, at Weiler Plastic Surgery says, "I could not agree more with his statement. Achieving balance and the correct proportions of the face is the best way to achieve full facial rejuvenation without appearing 'done' or unnatural."
There are two options that Weiler Plastic Surgery offers for chin augmentation: chin implant or dermal filler. Both are great options and we would be happy to discuss the intricacies of each to determine which is best for you.
A chin implant is a small surgical option performed by our Board Certified Plastic Surgeon, Dr. Weiler. It does require a short amount of downtime but is a permanent option for a more extreme correction.
The other option is nonsurgical, including dermal filler. Filler in the chin offers added projection to the area with the perfect contouring needed to mold the lower face. There is no downtime associated with the procedure. The filler can last one-to-two years. The preferred filler for this area is Juvederm Voluma, starting at $800 per syringe.
In addition to filler, Botox can also be injected into the chin with no downtime. This is to soften the chin muscle, called the mentalis. Often times, when the chin contracts, it forms a dimply or pebbled appearance which can permanently wrinkle the chin area. It only takes a small amount of product to resolve this issue-approximately 4 units, which is $52 and lasts 3 months.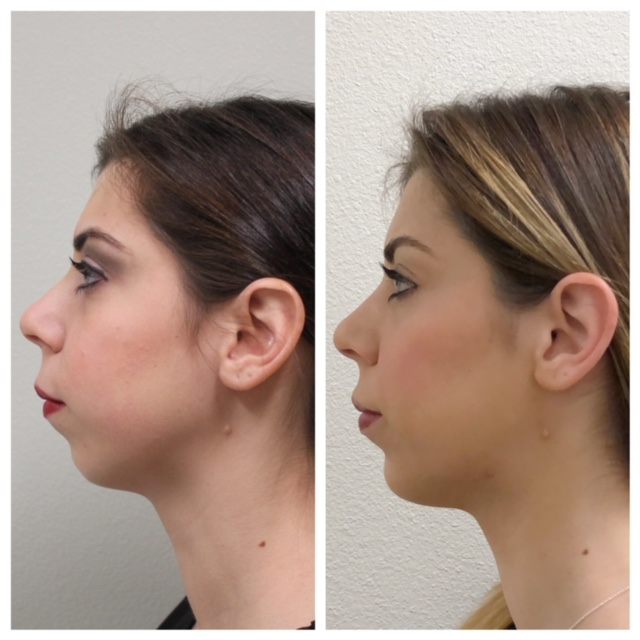 The patient in the above pictures had two syringes of Juvederm Voluma to the chin. As you can see, she has a nicer, more refined profile. The after pictures were taken the day after her procedure.
Our methodology here at Weiler Plastic Surgery is for subtle, natural-looking cosmetic changes that keep everyone wondering what you did to look so amazing, but never know exactly what it was!
For more information on this or other cosmetic procedures, products, or service offerings, call us at  225-399-0001 (Baton Rouge) or 985-902-7770 (Hammond).