Deciding between breast augmentation and a breast lift depends on which breast concerns you want to improve. For sagging (also known as ptosis) or asymmetry in your breasts, a breast lift might be your best option. If you're concerned about breast size, projection, and asymmetry, breast augmentation is a good choice.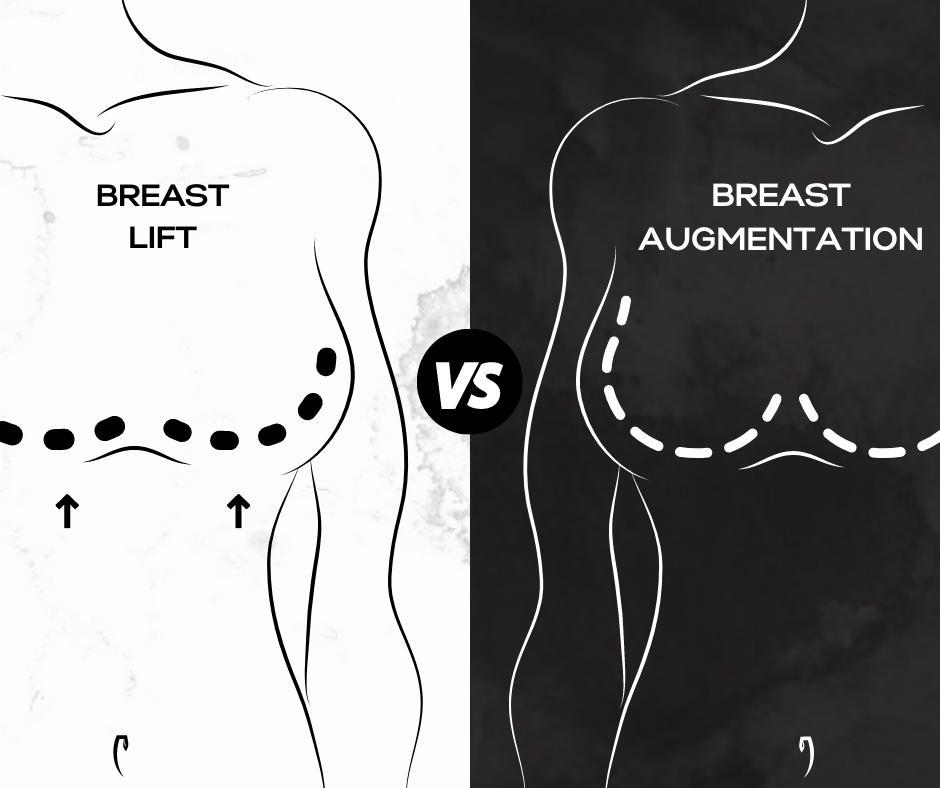 If you are wondering, what is the difference between a breast lift and augmentation, this post sheds some light on the two procedures using real-life examples. You can also read our related blog post, which discusses how to decide between breast augmentation, a breast lift, or both.
Breast Augmentation
Real Weiler Plastic Surgery Patient: Case 777
This patient was looking for rounder, shapelier breasts and more volume. She chose a breast augmentation to increase her breast size and achieve a more voluptuous silhouette. She is thrilled to show off her new breasts in ultra-feminine clothing and fun tops!

Real Weiler Plastic Surgery Patient: Case 793
This patient sported a toned and athletic figure but wanted to enhance her breasts for a softer appearance. A breast augmentation gave her larger breasts that look natural and fit her contoured frame.
Real Weiler Plastic Surgery Patient: Case 311
Our lovely patient was dissatisfied with her breast size, wanting fuller, more voluminous breasts. We were able to give her larger and rounder breasts with Natrelle breast implants. She now has a curvier figure and more fullness on the upper pole of her breasts for flattering cleavage.
Breast Lift
Real Weiler Plastic Surgery Patient: Case 806
This lovely patient wanted to reposition her drooping breasts. She opted for a breast lift to elevate and tighten her breasts for an overall perkier appearance. She also decided to pair her breast lift with a tummy tuck for additional contouring.
Real Weiler Plastic Surgery Patient: Case 724
This busy patient was ready to treat herself to new, lifted breasts and a flatter midsection. She chose a mommy makeover that included a breast lift and tummy tuck. She was thrilled with the results and her new body confidence.
Real Weiler Plastic Surgery Patient: Case 145
This patient had a beautiful body but was concerned about her sagging breasts. You may notice some slight asymmetry in her pre-surgery breasts as well. She chose a breast lift for a more contoured appearance and to look great in her clothes once again. During the breast lift procedure, Dr. Weiler not only elevated the position of the breasts but balanced their size for better symmetry.
Breast Augmentation & Lift
Real Weiler Plastic Surgery Patient: Case 802
This patient was seeking fullness in her upper breasts as well as a lift. She decided on 580 cc Natrelle breast implants and a lift for shapelier and more beautifully positioned breasts.
You can see more of our patients' excellent breast augmentation and breast lift results in our before-and-after photo gallery. A breast lift or breast augmentation can transform your body and give you a beautiful silhouette. If you are ready to explore your breast enhancement options, request a consultation or call us at (225) 399-0001 to schedule an appointment.