When it comes to nonsurgical body contouring, CoolSculpting® is one of the most popular options in Baton Rouge and across America. 
The treatment removes unwanted rolls and bulges by literally freezing away fat—all without the need for surgery. However, some new patients come to us a bit worried that this procedure sounds too good to be true. Does CoolSculpting really work for removing fat? And is it worth the cost?
What is CoolSculpting?
CoolSculpting is a nonsurgical, FDA-approved fat reduction procedure. It works best on pinchable areas of fat that collect under the chin or around the midsection, legs, arms, and more. During treatment, the machine suctions fatty tissue into a small handheld applicator. A steady stream of cold air is applied to the area to "freeze" and destroy targeted fat cells.
The procedure works best for those who follow a healthy lifestyle but want to slim down lingering trouble spots. A single session takes only around 30 minutes per treatment area, and there is no downtime required afterward.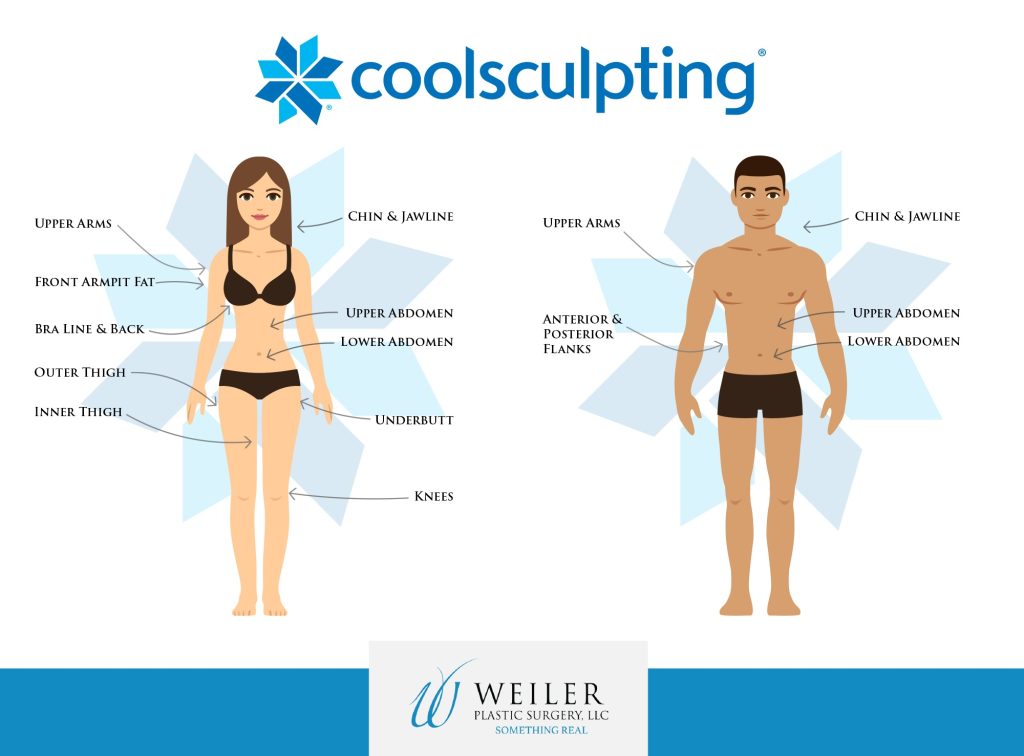 What is the science behind CoolSculpting?
CoolSculpting may "freeze" away fat cells, but the process involves more than a bit of cold air. The treatment uses a special process known as cryolipolysis. CoolSculpting's inventors—a pair of Harvard scientists—discovered the concept after watching small children eat popsicles. They noticed that some children got dimples in their cheeks after sucking on ice pops. They theorized that cold could target fat without harming other surrounding tissues, and they were right.
But this doesn't mean you should break out an ice pack and try CoolSculpting at home. "DIY" versions simply don't work (and can even cause harm) because real CoolSculpting involves precisely controlled temperatures and a special handheld applicator. Normally, fat recedes from the skin when exposed to cold air, but the applicator uses suction to hold the fat securely in place. 
Once the fat cells are successfully frozen, they are permanently shed by the body and won't grow back over time. A study published in Dermatologic Surgery found that treatment reduced a patient's fat layer thickness by 23% within 3 months of treatment. Cryolipolysis appears to be most effective at treating areas such as the back, abdomen, and flanks.
What results can I expect from CoolSculpting?
Target areas begin to slim down about a month after treatment. Your results will continue to improve over the course of 3 months as the body sheds more frozen cells. Many patients achieve the results they desire after a single treatment session. You can also schedule a series of CoolSculpting sessions if you're looking for more dramatic changes. 
Many of our CoolSculpting patients in Baton Rouge have enjoyed slimming down bumps and bulges and feeling more confident in their appearance. But don't take our word for it—browse our reviews page or watch Lauren's personal CoolSculpting experience below.
What should I look for in CoolSculpting before-and-after photos?
Many patients start their CoolSculpting research by looking at before-and-after photos. Browsing these pictures can be exciting and motivational, but they can also be very informative. Here are a few things to keep in mind when looking at photos:
Find "before" images that look similar to you:

CoolSculpting can trim the belly and tone your thighs, but it can't completely change your body's build. To get a good idea of the results you can personally expect, try to find photos of someone with a similar body structure or muscle build. 

Look for consistent improvements:

No two patients are exactly the same, and they may respond to CoolSculpting in slightly different ways. A talented provider will create consistent, noticeable changes that enhance each patient's natural look.
Is CoolSculpting right for me?
Sometimes diet and exercise aren't enough to shrink stubborn problem areas. If a healthy lifestyle hasn't fixed your muffin top, banana roll, or saddlebags, CoolSculpting may be right for you. However, it's important to remember that CoolSculpting is a body contouring treatment and not a weight loss procedure. Get within 10 to 15 pounds of your ideal weight, and then use CoolSculpting for the finishing touches. 
In the end, the answer is simple: Yes, CoolSculpting works. The science and our patients' results can prove it. If you're interested in trimming those stubborn pockets fat with CoolSculpting in the Baton Rouge area, please request a consultation online. You can also contact our office by phone at (225) 399-0001 to learn more or schedule an appointment.