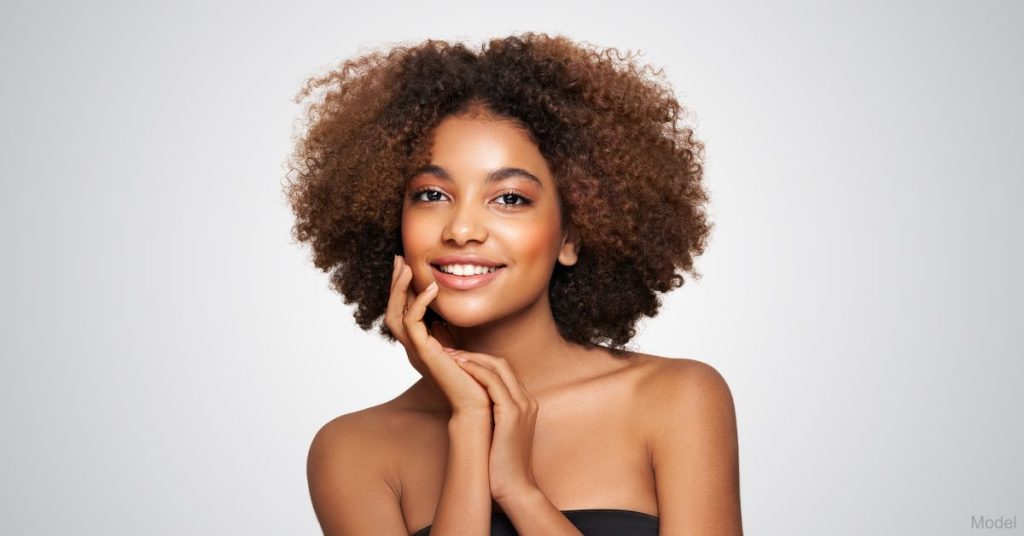 If you have ever wished for a facial rejuvenation procedure with the power of a facelift and without surgery, the 8-point facelift is the answer. As you probably already know, aging causes your facial skin to sag, wrinkle, and gather around the jawline, making you look tired and less vibrant than you feel. The 8-point facelift, also called a liquid facelift, addresses all these issues with the help of injectables so that you can look more youthful with minimal recovery and downtime.
Let's dive into what you need to know about the 8-point facelift.
What Is an 8-Point Facelift?
This procedure uses hyaluronic acid (HA) fillers to target 8 points on your face to create volume, improve facial features, and achieve an overall lifting effect, hence the term 8-point facelift. HA is a naturally occurring substance that's great for adding natural-looking volume and holding onto water so your results look plump and natural. Typically, fillers from the JUVÉDERM® family are used for this treatment.
The Treatment Is Quick and Easy
This treatment typically takes around 30 to 45 minutes, so it fits perfectly into your busy lifestyle. Our experienced injectors have perfected their technique to give you excellent results in just a short time. However, not everyone will have the same experience, so you may need some additional time, depending on your situation.
It Addresses 8 Critical Points on the Face
You will typically receive injections in the following areas of the face.
Under the cheeks
Cheekbones
Jowls
Tear Troughs
Jawline
Corners of the mouth
Nose and mouth lines
No Recovery Time Is Needed
People who shy away from a surgical procedure due to the long recovery will be happy to know that there is virtually no downtime with the 8-point facelift. A topical numbing cream is typically applied to the area before the treatment, so you don't have to worry about discomfort.
After the treatment, you can expect to resume your regular routine immediately. You will experience some swelling and bruising during the first 2 to 3 days, but these symptoms should subside soon. You can use ice packs on the treated areas to manage any bruising or swelling.
It Offers Benefits Over Other Nonsurgical Options
Nonsurgical facial treatments such as facial peels and neurotoxins can improve aging signs but can't deliver the impactful results you get from an 8-point facelift. The 8-point facelift is carefully formulated to target the 8 facial areas that will give you comprehensive and radiant results.
With other nonsurgical procedures, you may need repeat treatments to achieve your results. However, with an 8-point facelift, you can expect to look and feel youthful after 1 treatment session. Depending on the type of filler used, you can expect your 8-point facelift to last up to 2 years.
The 8-Point Lift Uses Trusted Injectable Brands
We use trusted, FDA-approved fillers such as JUVÉDERM and Restylane® that have been tested extensively for safety and results. Your procedure should be completely safe in the hands of an experienced injector. Additionally, an experienced injector will know what to do if any unexpected complications arise during your treatment.
This Liquid Facelift Creates Soft, Natural-Looking Results
If you are worried about looking too puffy or pillowy after your 8-point facelift, worry no longer! Our experienced injectors will start your treatments slowly and build up as needed. Most patients are happy with the amount of filler used on each area of the face to achieve optimal facial rejuvenation.
You should know that the 8-point facelift can be customized to achieve your desired look. If you prefer a more dramatic rejuvenation, you can achieve your goal with additional sessions. However, most of our patients prefer natural rejuvenation and subtle changes, which our injectors are happy to provide.
You Can Pair It With Other Nonsurgical Treatments
You can combine neurotoxins such as BOTOX® or Dysport® with your 8-point facelift for enhanced facial rejuvenation. Since fillers can't address dynamic wrinkles around your eyes or between your eyebrows, BOTOX can relax these facial lines. Your injector will advise you if you are a good candidate to combine neurotoxins with your 8-point facelift and if you should stagger the treatments for the best results.
You may also benefit from medical-grade skincare products after your procedure. These products will help protect and nourish your skin, delaying additional skin aging.
The 8-point facelift is an excellent option for people looking for effective facial rejuvenation without the downtime and cost of surgery. To learn more about the benefits of an 8-point facelift, request a consultation or call us at (225) 399-0001 to schedule an appointment.