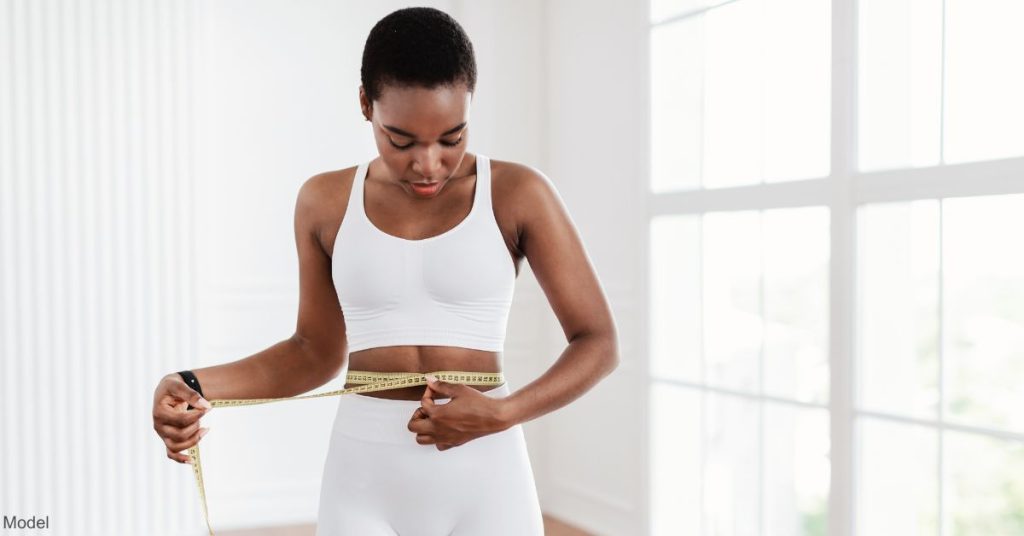 Nonsurgical CoolSculpting® and tummy tuck surgery both promise a more contoured, shapely figure. However, that is largely where the similarities end. If you find yourself debating the benefits of CoolSculpting vs. a tummy tuck and are not sure where to begin, this guide has you covered.
What Does a Tummy Tuck Do?
Tummy tuck surgery (abdominoplasty) addresses both cosmetic and functional concerns, including:
Lax, stretched, and wrinkled skin that hangs around the midsection
Separated or damaged abdominal muscles (called diastasis recti—learn more in our related blog post)
Localized fat deposits on the abdomen
In addition, this outpatient procedure can also:
Reshape and reposition the bellybutton
Remove stretch marks, C-section scars, and unwanted tattoos, depending on their placement
Be combined with liposuction or other surgeries (as part of a mommy makeover) to enhance results
What a tummy tuck does not do is help you lose weight. Instead, it treats the concerns that often follow significant weight loss after pregnancy or major lifestyle changes, such as loose skin that hasn't retracted to fit your slimmer figure.
Tummy Tuck Recovery and Results
Advances in tummy tuck surgery have made recovery quicker and easier than ever. Rather than needing 6 to 8 weeks of postoperative downtime, today's patients typically need 2 weeks of recovery before returning to work and school and another 4 weeks to resume strenuous activity.
We use a long-lasting local anesthetic called EXPAREL® to minimize discomfort for up to 72 hours after surgery. During your recovery, you will need to wear a compression garment to control swelling and encourage a smooth, even result.
As swelling subsides, your flatter, sleeker figure will reveal itself. Although the number on the scale will not change much, many patients drop 2 to 3 sizes in dresses and pants following their surgery.
CoolSculpting Elite
The latest generation of CoolSculpting® technology, CoolSculpting Elite, offers an enhanced body contouring experience. Elite uses redesigned applicators to better conform to your body's curves and can cover nearly 20% more surface area than its predecessor.
CoolSculpting Elite uses its targeted fat-freezing technology to destroy fat cells without causing harm to the surrounding tissues. Its 9 FDA-cleared treatment areas include:
Below the jawline (submandibular fat)
Under the chin (submental fat)
Bra line
Upper arms
Flanks (love handles)
Back
Abdomen
Thighs (inner, outer, and back)
Banana roll (under the buttocks)
How Effective Is CoolSculpting?
CoolSculpting Elite can reduce fat by up to 25% in the treatment area. In addition, its dual applicators mean that patients can experience twice the improvement in one convenient session.
Is CoolSculpting Permanent?
Once fat cells are destroyed, they don't regenerate. However, the remaining fat cells can shrink or enlarge in response to dietary and lifestyle changes. If patients can maintain a consistent weight as well as healthy eating and fitness habits, they should be able to enjoy their results indefinitely.
What Is Better: CoolSculpting or a Tummy Tuck?
Which procedure is better for you will depend on your cosmetic goals. A tummy tuck addresses excess, sagging abdominal skin and weakness in the underlying muscles. CoolSculpting offers targeted fat reduction throughout the body in a short, noninvasive procedure that requires no downtime.
Consulting with a board-certified plastic surgeon can help you determine whether a surgical or nonsurgical intervention will provide you with the best outcomes. Viewing our before-and-after photo galleries can also show you the attainable results from each procedure.
If you are interested in learning more about which body contouring option is right for you, please request a consultation or call us at (225) 399-0001.