Eyelid Surgery
Dr. Jonathan Weiler, Dr. Robyn Daugherty, and Dr. M'liss Hogan perform blepharoplasty, often called eyelid surgery, in Baton Rouge and Hammond for women and men from New Orleans and Lafayette, LA, and surrounding areas who believe they always look tired and older than they feel. Through this procedure, they help patients look youthful and naturally refreshed, without obvious signs of surgery. In fact, their "scarless" technique for lower eyelid surgery leaves no visible scar. Patients appreciate the subtle yet noticeable facial rejuvenation results that our surgeons create.
Are You a Candidate for Eyelid Surgery?
Our board-certified plastic surgeons, Dr. Weiler, Dr. Daugherty, and Dr. Hogan all have extensive experience performing eyelid surgery for both women and men. Good candidates are healthy and usually over age 30, although the procedure may be right for younger patients who have naturally heavy eyelids or under-eye bags. This procedure can be performed on the upper eyelids, lower eyelids, or both sets. Patients commonly choose eyelid surgery to correct one or more of the following concerns:
Sagging, wrinkled upper eyelid skin
Puffy bags under the eyes
Pockets of fat around the eyes
Severe "hooding" that can impair vision
When you visit Dr. Weiler, Dr. Daugherty, or Dr. Hogan for a personal consultation, he or she will ask you about your concerns and determine if blepharoplasty can produce the improvements you want. Our facelift patients often choose to add in eyelid surgery for a more complete facial rejuvenation.
Eyelid Lift or Brow Lift?
Many patients visit us for eyelid surgery and discover they need a brow lift instead. Others are better served with a combination of the two procedures as is illustrated by the table.
| Concern | Eyelid Surgery | Brow Lift |
| --- | --- | --- |
| Upper eyelids fold over the eyelid crease or upper lashes | | |
| Hooding skin at the outer corners of the eyes | | |
| Eyebrows are horizontal instead of arched (women) | | |
| Eyebrows sag onto or hang over the brow bone | | |
| Puffy under-eye bags | | |
| Peripheral vision impaired | | |
How Is Eyelid Surgery Performed?
Eyelid surgery is performed as an outpatient procedure at our on-site Baton Rouge surgery center using a local anesthetic with an oral sedative for enhanced safety and to avoid the negative side effects from general anesthesia.
For upper eyelid surgery, incisions are placed within the natural crease, taking special care to remove enough skin to provide the desired results while looking natural. The resulting scars will be concealed in the crease of the upper eyelid.
For lower eyelid surgery, incisions are placed inside the lower eyelids (transconjunctival) to access fat, muscle, and skin. These incisions are closed with dissolvable sutures. This scarless technique leaves no visible scar and usually results in less bruising than the external incision.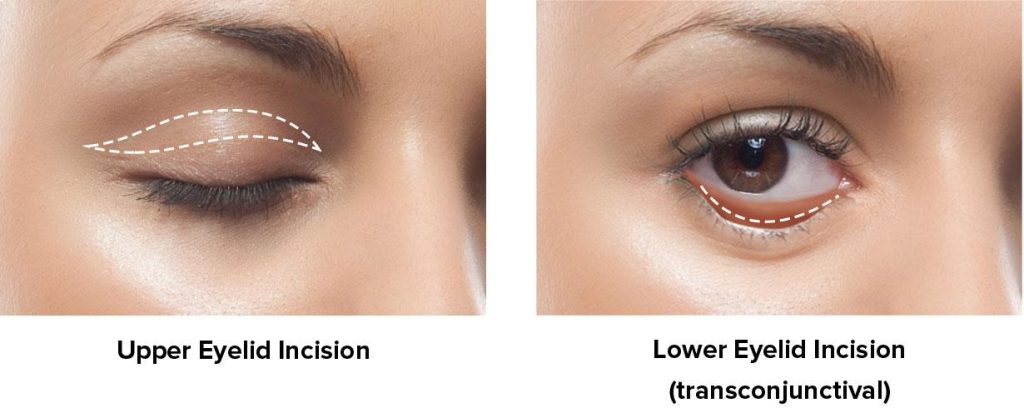 A Talented Trio
Our 3 board-certified plastic surgeons are proud to offer their unique talents to women and men in their home state of Louisiana. Dr. Jonathan Weiler's vision of delivering state-of-the-art techniques is shared by Dr. Robyn Daugherty and Dr. M'liss Hogan, who each bring skill, experience, and a woman's touch to Weiler Plastic Surgery. As mothers themselves, Dr. Daugherty and Dr. Hogan both understand the effects pregnancy and breastfeeding can have on a woman's body and self-image.
Credentials you can trust:
Recovery
While experiences vary, most patients recover quickly after eyelid surgery.
Help the Healing Process
To minimize recovery time, we recommend patients take the following precautions for the first 2 to 3 days after surgery:
Apply ice packs to the eye area as directed
Keep the head elevated at all times
Sleep in a recliner or propped up in bed with pillows
Postpone activities that may dry out the eyes such as reading, watching TV, using the computer
Do not wear contact lenses for 2 to 3 weeks as directed
Unusual Sensations
For many patients, the following sensations are a temporary and normal part of the healing process:
Eyelids feel tight
Vision is slightly blurry
Eyes tire easily
Please contact our office if you have any concerns about unusual sensations after your surgery.
Weiler Plastic Surgery Named a Top 25 Provider Nationwide
Aesthetics industry leader Allergan has honored Weiler Plastic Surgery in 2021 as one of their Top 25 Providers nationwide out of more than 50,000 aesthetic practices in the United States.
As a proud partner of Allergan, who provides us with BOTOX®, JUVÉDERM®, CoolSculpting®, and Natrelle® breast implants, we remain one of Louisiana's top aesthetic practices!
Check In With Your Doctor
You will return for your first post-op check a day or two after surgery so we can examine your incisions, answer your questions, address any concerns, and review instructions for recovery.
Sutures are removed from the upper lids 5 to 7 days post-op. Our surgeons use absorbable sutures for lower eyelid surgery, which don't need to be removed.
Return to Your Routine
Recovery after eyelid surgery varies, but typically patients return to work and normal activities within 3 to 5 days. Eye makeup can be worn after 5 to 10 days. It's important to refrain from any activities that may elevate the heart rate for the first few weeks following surgery, which include bending over, strenuous exercise, and heavy lifting.
A Reputation Built on Results
2021 Winner of Best Plastic Surgeon in Baton Rouge
225 Magazine's 16th Annual "Best of 225" Awards
You made Weiler Plastic Surgery your choice for Best Plastic Surgeon in 225 Magazine's 16th annual "Best of 225" awards. More than 13,000 Capital Region residents cast their votes, selecting us as the team they trust to bring out their very best and make them feel at home each step of the way.
Frequently Asked Questions
How much does eyelid surgery cost?
The cost of eyelid surgery varies depending on several factors, including whether the procedure involves the upper or lower eyelids (or both), the plastic surgeon's experience and training, the type of anesthetic used, and the location of the plastic surgery practice. At Weiler Plastic Surgery, we offer financing options to help make cosmetic surgery more accessible for patients who qualify.
Is eyelid surgery recovery painful?
The discomfort experienced following eyelid surgery is typically managed quite well with either over-the-counter or prescription pain relief medication. Most patients experience some tightness and their eyes may tire more easily, but patients say the pain is relatively mild.
Next Step
Are you ready to find out if eyelid surgery can help you look refreshed and more youthful? Request a consultation at Weiler Plastic Surgery or call (225) 399-0001 for an appointment.