Plasma Pen
Reduce lines, wrinkles, and skin laxity on multiple areas of your face and body with Plasma Pen treatments in Baton Rouge at Weiler Plastic Surgery. This skin rejuvenation device uses plasma energy to stimulate collagen remodeling within the skin for a fresher, tighter, and more lifted appearance. It's highly versatile and offers long-lasting results, often delaying or even preventing the need for surgical anti-aging procedures.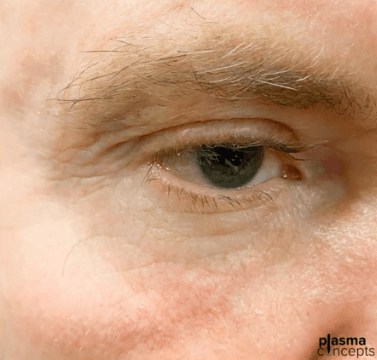 What Is the Plasma Pen?
The Plasma Pen—we use the Plasma Concepts Pen—is a hand-held device that activates the fibroblast cells in your skin responsible for collagen production. By creating tiny injuries in your skin's surface, the device triggers these fibroblasts to synthesize new collagen as a healing response. This process is called fibroblasting, and it leads to healthier, more youthful-looking skin.
The treatment works similarly to microneedling and fractional laser treatments. Instead of using lasers or needles to puncture the skin, though, the Plasma Pen uses plasma energy created by ionizing nitrogen and oxygen in the air. This energy heats the skin to create microinjuries, causing fibroblasts to spring into regenerative action.
Weiler Plastic Surgery Named a Top 25 Provider Nationwide
Aesthetics industry leader Allergan has honored Weiler Plastic Surgery in 2021 as one of their Top 25 Providers nationwide out of more than 50,000 aesthetic practices in the United States.
As a proud partner of Allergan, who provides us with BOTOX®, JUVÉDERM®, CoolSculpting®, and Natrelle® breast implants, we remain one of Louisiana's top aesthetic practices!
What Does the Plasma Pen Treat?
The Plasma Pen effectively treats laxity, wrinkles, lines, and uneven texture on multiples areas of the body, including:
Upper and lower eyelids
Lips
Forehead
Neck
More severe laxity may be better treated with ThermiTight® for the body.
What Happens During a Plasma Pen Treatment?
Your provider will start by discussing your concerns to make sure you're a strong candidate for the procedure. Keep in mind the Plasma Pen is not recommended for darker skin tones as it can cause pigmentation issues in the treated areas.
If you are a candidate, your provider will begin by applying a topical numbing cream to keep you comfortable throughout the treatment. He or she will then use the device to deliver short flashes of energy across the targeted area, creating a matrix of tiny, dark dots. Treatment times can range between about 10 and 45 minutes. Before you leave, your provider will apply a topical aftercare cream to aid in the healing process.
A Reputation Built on Results
What Is Plasma Pen Recovery Like?
For the first 2 to 3 days, you may experience some redness and swelling. You'll notice a dark matrix of tiny dots created by the plasma flashes. These dots will scab and flake off, typically in about 5 to 7 days, leaving behind fresher, younger-looking tissues. Your provider will give you instructions for looking after your skin as it heals.
You'll likely notice gradual improvements for the next several weeks as new collagen production takes place. Most people only need 1 or 2 sessions to achieve their best results.
2021 Winner of Best Plastic Surgeon in Baton Rouge
225 Magazine's 16th Annual "Best of 225" Awards
You made Weiler Plastic Surgery your choice for Best Plastic Surgeon in 225 Magazine's 16th annual "Best of 225" awards. More than 13,000 Capital Region residents cast their votes, selecting us as the team they trust to bring out their very best and make them feel at home each step of the way.
How Much Do Plasma Pen Treatments Cost?
The cost of plasma pen treatment varies greatly depending on the area being treated. The best way to determine your pricing is to visit us for a private consultation.
Next Step
Curious what Plasma Pen treatments can do for you? Please request a consultation at Weiler Plastic Surgery online or call (225) 399-0001 to schedule an appointment.
A Talented Trio
Our 3 board-certified plastic surgeons are proud to offer their unique talents to women and men in their home state of Louisiana. Dr. Jonathan Weiler's vision of delivering state-of-the-art techniques is shared by Dr. Robyn Daugherty and Dr. M'liss Hogan, who each bring skill, experience, and a woman's touch to Weiler Plastic Surgery. As mothers themselves, Dr. Daugherty and Dr. Hogan both understand the effects pregnancy and breastfeeding can have on a woman's body and self-image.
Credentials you can trust: