Baton Rouge
Weiler Plastic Surgery
4212 Bluebonnet Boulevard Suite A
Baton Rouge, LA 70809
Phone: (225) 399-0001
Mon - Thur: 7:30 a.m.–5 p.m.
Fri: 7:30 a.m.–4 p.m.

Baton Rouge - Downtown
Weiler Plastic Surgery
240 Laurel St Suite 202
Baton Rouge, LA 70801
Phone: (225) 399-0011
Mon - Thur: 7:30 a.m.–4 p.m., Fri: 8:00 a.m.–3p.m

Hammond
Weiler Plastic Surgery
42078 Veterans Avenue Suite H
Hammond, LA 70403
Phone: (985) 902-7770
Mon - Thur: 8:30 a.m.–5 p.m.
Fri: 8:30 a.m.–4 p.m.

Denham Springs
Weiler Plastic Surgery
921 South Range Ave
Denham Springs, LA 70726
Phone: (225) 900-7002
Mon - Thur: 8:30 a.m.–5 p.m.
Fri: 8:30 a.m.–4 p.m.

Facelift
Your face defines a significant portion of your identity, so it's essential to choose your surgeon carefully if you're considering a facelift. Baton Rouge plastic surgeons Dr. Jonathan Weiler and Dr. Robyn Daugherty understand that facelift patients want to look as young as they feel–naturally. Dr. Weiler has developed an innovative, modern facelift technique he calls the Timeless Face that doesn't involve general anesthesia or a hospital setting. The main goal of this procedure is to leave patients looking like a younger, naturally rejuvenated version of themselves.
Are You a Candidate for the Timeless Face Procedure?
Healthy women and men in their 40s and up who are bothered by aging of the lower face and neck usually make good candidates for the Timeless Face procedure. This combination facelift/neck lift procedure is also appropriate for patients who have lost significant amount of weight.
Dr. Weiler has performed over 2,000 Timeless Face procedures.
Our plastic surgeons personalize each procedure to the patient's unique needs and aesthetic goals. With this facelift technique, they can address a variety of concerns, including:
Deep wrinkles in the cheeks
Sagging skin near the cheekbones
Loss of definition along the jawline
Loose neck skin
Excess fatty tissue under the chin and on the neck
During the consultation with your plastic surgeon, you will have the opportunity to describe your concerns and the improvements you'd like to see. Our Surgeons have found that through unrushed, open conversation, they are best able to understand and meet each patient's goals.
Complementary Procedures
For the most attractive and natural-looking results, our surgeons often address multiple concerns in one surgery. Depending on patient concerns, they combine the Timeless Face procedure with one or more of the following procedures:
Eyelid surgery to tighten lax upper lids and puffy undereye bags
Brow lift to raise heavy, sagging eyebrows
Fat grafting to restore lost volume to the cheeks and around the eyes
Laser skin resurfacing to smooth away fine lines around the eyes and mouth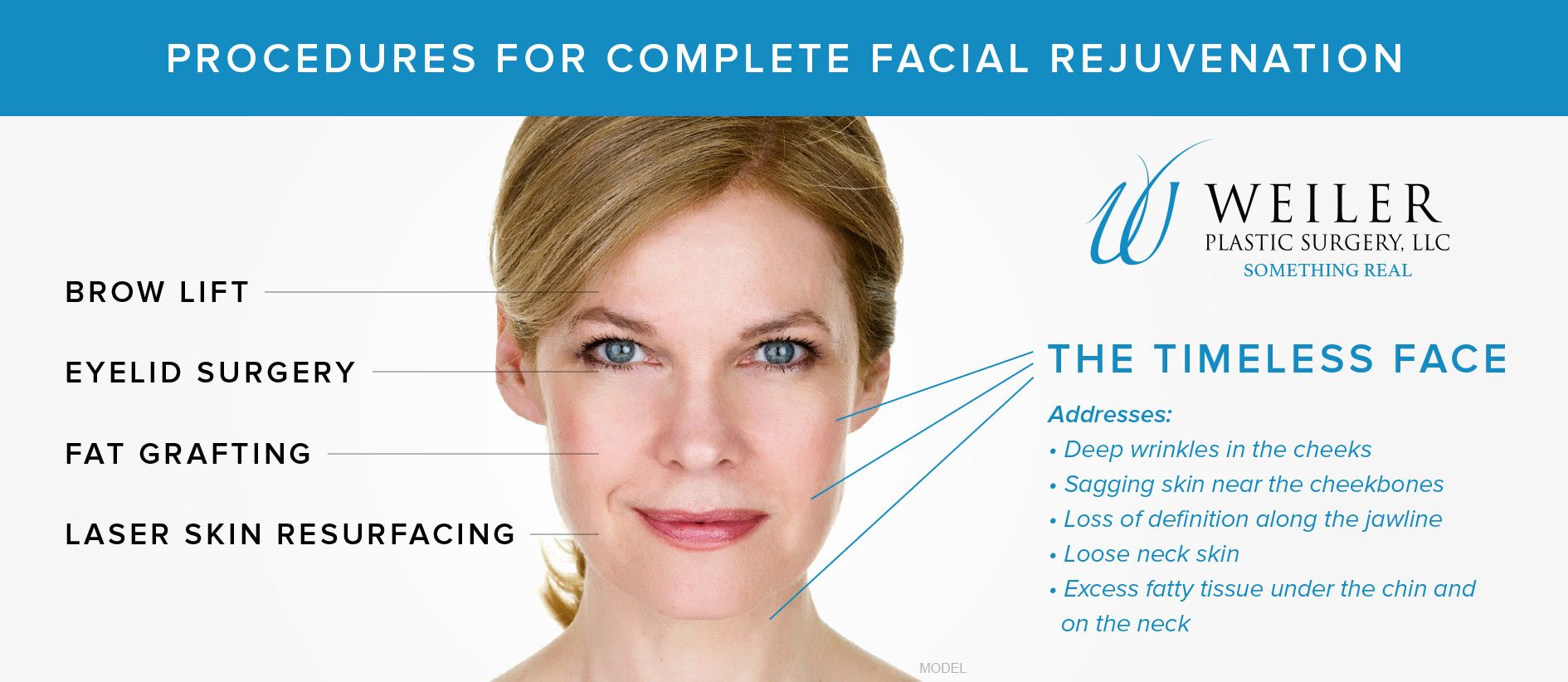 About the Surgery
Dr. Weiler performs and Dr. Daugherty perform facelift surgery as an outpatient procedure at our on-site, state-of-the-art surgery center. They are two of the few doctors in the Baton Rouge and New Orleans area that perform facelift procedures using local anesthetic with oral sedation, similar to the method used by oral surgeons. In doing so, our surgeons avoid the nausea, grogginess, and safety risks associated with general anesthesia.
After the patient is relaxed and comfortable, the surgeon begins the surgery by making three small incisions: one in the natural crease beneath the chin and the other two in inconspicuous areas around the ears. He repositions lax tissue and muscle, and reduces pockets of fat, then re-drapes the overlying skin and trims away the excess. He finishes the procedure by closing the incisions with fine sutures and covering them with protective dressings.
After a brief observation period, patients are released into the care of an adult family member or friend who will drive them home.
Dual Board-Certified Plastic Surgeon
Dr. Jonathan Weiler
Extensively trained and experienced in cosmetic surgery of the face, breasts, and body, Dr. Weiler takes pride in bringing state-of-the-art techniques to his home state of Louisiana. His genuinely caring personality enables patients to connect and share their concerns with him for truly personalized results.
With a rare combination of exceptional credentials and a down-to-earth, caring personality, Dr. Weiler transforms aesthetic visions into reality. He offers procedures for the face, breasts, and body, including specialized techniques that minimize pain and recovery time.
Dr. Robyn Daugherty
A fellowship-trained plastic and reconstructive surgeon, Dr. Daugherty brings exceptional surgical abilities and a woman's touch to Weiler Plastic Surgery. As the mother of 3 young sons, including twins, she understands first-hand the affects pregnancy and breastfeeding can have on a woman's body and self-image. Dr. Daugherty is excited to help her patients–both women and men–feel more attractive and confident.
Meet Dr. Daugherty
Recovery
Most patients will need someone to stay with them for the first day or two after surgery to prepare meals and help with personal care. Pain is usually minor and subsides within a couple of days.  Your surgeon will prescribe pain medication, but many patients do fine with over-the-counter pain relievers. Patients are typically allowed to shower and wash their hair 48 hours after surgery.
Help the Healing Process
It is typical to have swelling and bruising initially that subsides gradually over a week or so. To keep this at a minimum:
Keep the head elevated at all times, even while sleeping
Wear the compression garment continuously for 5 days and then at night for 3 weeks
Avoid bending over
Unusual Sensations
For many patients, the following sensations are temporary and a normal part of the healing process:
Mild facial numbness may take a few months to dissipate.
Tightness in the neck muscles.
Please contact our office if you have any concerns about unusual sensations after your surgery.
Check In With Your Doctor
Dr. Weiler and Dr. Daugherty like to see facelift patients the following day to remove the dressings and assess the incisions. During this appointment, he or she will address any concerns you have, answer your questions, and review instructions for optimal recovery.
Most of the stitches will be removed within 5 to 7 days. The sutures behind your ears will be removed from 2 to 3 weeks after surgery.
Return to Your Routine
Patients typically are ready to return to work and normal activities within 5 to 7 days, and be "party presentable" in 2 to 3 weeks. Strenuous exercise should be avoided for several weeks and may be resumed only as directed by your doctor.
Timeless Face Results
Facial plastic surgery results are long-lasting; however, surgery won't stop the aging process. With proper care, expect your refreshed look to last 5 to 10 years.
Next Step
Are you ready to find out how the Timeless Face procedure can rejuvenate your look? Request a consultation at Weiler Plastic Surgery or call (225) 399-0001 for an appointment.