Facelift
Your face defines a significant portion of your identity, so it's essential to choose your surgeon carefully if you're considering a facelift near Baton Rouge or New Orleans, LA. Board-certified plastic surgeons Dr. Jonathan Weiler, Dr. Robyn Daugherty, and Dr. M'liss Hogan understand that facelift patients want to look as young as they feel–naturally. Dr. Weiler has developed an innovative, modern facelift technique he calls the Timeless Face that doesn't involve general anesthesia or a hospital setting. The main goal of this procedure is to leave patients looking like a younger, naturally rejuvenated version of themselves.
What Is a Facelift?
A facelift is a plastic surgery procedure that focuses on reducing signs of aging on the lower 2/3 of the face by addressing the following concerns:
Deep wrinkles in the cheeks
Sagging skin near the cheekbones
Loss of definition along the jawline
Our plastic surgeons personalize each procedure to the patient's unique needs and aesthetic goals.
Are You a Candidate for the Timeless Face Procedure?
Healthy women and men in their 40s and up who are bothered by aging of the lower face and neck usually make good candidates for the Timeless Face procedure. This combination facelift/neck lift procedure is also appropriate for patients who have lost significant amount of weight. In addition to the concerns addressed by a traditional facelift, the Timeless Face procedure addresses:
Loose neck skin
Excess fatty tissue under the chin and on the neck
Patients considering a facelift travel from Denham Springs to Metairie and throughout Louisiana to get the Timeless Face procedure performed at our practice.
Dr. Weiler has performed over 2,000 Timeless Face procedures.
During the consultation with your plastic surgeon, you will have the opportunity to describe your concerns and the improvements you'd like to see. Our Surgeons have found that through unrushed, open conversation, they are best able to understand and meet each patient's goals.
Complementary Procedures
For the most attractive and natural-looking results, our surgeons often address multiple concerns in one surgery. Depending on patient concerns, they combine the Timeless Face procedure with one or more of the following procedures:
Eyelid surgery to tighten lax upper lids and puffy undereye bags
Brow lift to raise heavy, sagging eyebrows
Fat grafting to restore lost volume to the cheeks and around the eyes
Laser skin resurfacing to smooth away fine lines around the eyes and mouth
What Is a 'Liquid Facelift'?
Some women and men who are considering facelift surgery may be good candidates for a less invasive treatment called a liquid facelift. Using injectables to smooth wrinkles and restore volume, Dr. Daugherty can simulate the effects of a facelift without surgery. This approach works well for patients whose skin has minimal sagging and retains much of its elasticity.
Fillers such as Radiesse®, JUVÉDERM VOLUMA®, and Restylane Lyft® are formulated specifically to produce a lifted appearance in the treatment areas. Dr. Daugherty uses these injectable fillers to provide the following benefits:
Restore volume to the cheeks
Lift mild jowls
Minimize vertical lip lines
By injecting fillers into fine lines and areas of the face with volume loss, a similar effect to a traditional facelift can be accomplished. A liquid facelift restores facial contours, resulting in a more rested and energetic look. Combining BOTOX® or Dysport® with dermal fillers produces a comprehensive facial rejuvenation.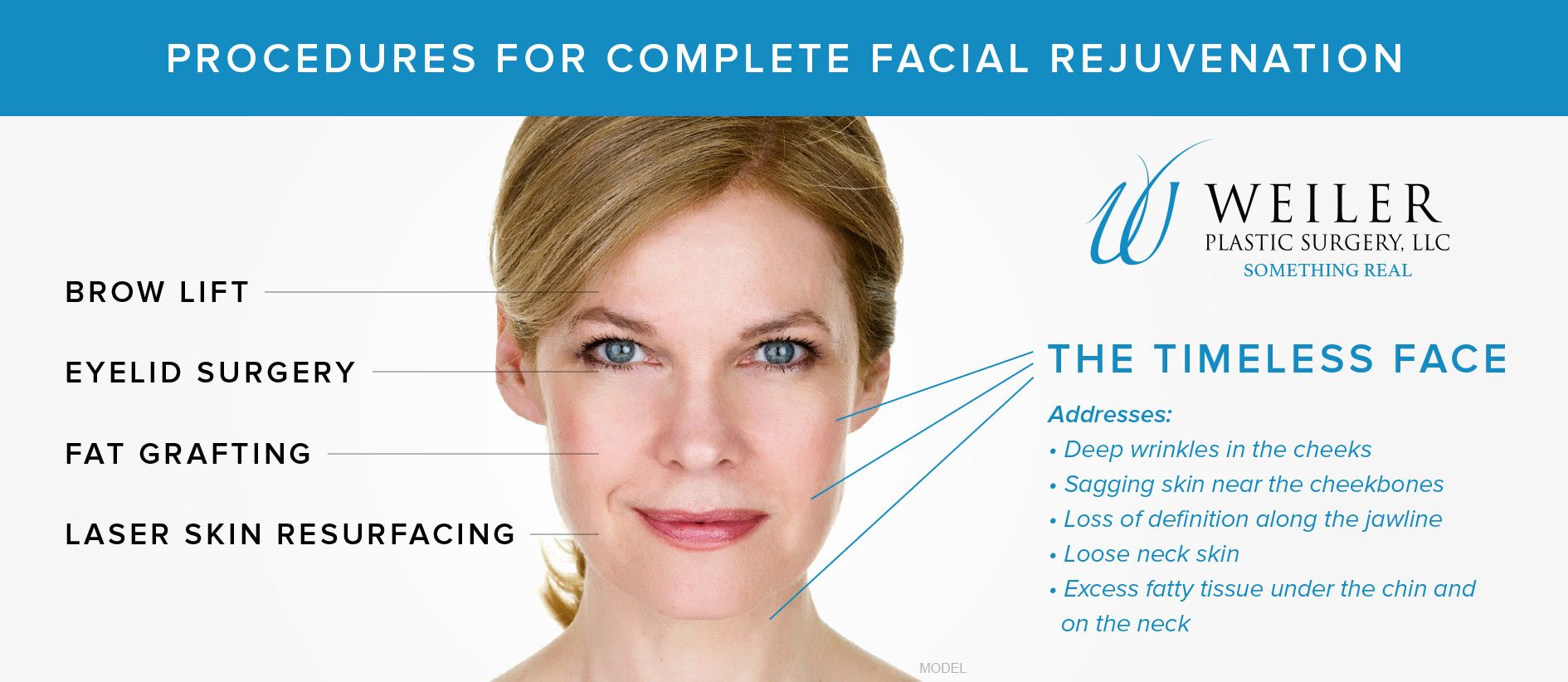 About the Surgery
Dr. Weiler, Dr. Daugherty, and Dr. Hogan perform facelift surgery as an outpatient procedure at our on-site, state-of-the-art surgery center. They are some of the few doctors in the Baton Rouge and New Orleans area that perform facelift procedures using local anesthetic with oral sedation, similar to the method used by oral surgeons. In doing so, our surgeons avoid nausea, grogginess, and safety risks associated with general anesthesia.
After the patient is relaxed and comfortable, the surgeon begins the surgery by making three small incisions: one in the natural crease beneath the chin and the other two in inconspicuous areas around the ears. The surgeon repositions lax tissue and muscle, and reduces pockets of fat, then re-drapes the overlying skin and trims away the excess. The surgeon finishes the procedure by closing the incisions with fine sutures and covering them with protective dressings.
After a brief observation period, patients are released into the care of an adult family member or friend who will drive them home.
A Talented Trio
Our 3 board-certified plastic surgeons are proud to offer their unique talents to women and men in their home state of Louisiana. Dr. Jonathan Weiler's vision of delivering state-of-the-art techniques is shared by Dr. Robyn Daugherty and Dr. M'liss Hogan, who each bring skill, experience, and a woman's touch to Weiler Plastic Surgery. As mothers themselves, Dr. Daugherty and Dr. Hogan both understand the effects pregnancy and breastfeeding can have on a woman's body and self-image.
Credentials you can trust:
How Long Does It Take To Recover From Facelift Surgery?
Most patients will need someone to stay with them for the first day or two after surgery to prepare meals and help with personal care. Pain is usually minor and subsides within a couple of days.  Your surgeon will prescribe pain medication, but many patients do fine with over-the-counter pain relievers. Patients are typically allowed to shower and wash their hair 48 hours after surgery.
Help the Healing Process
It is typical to have swelling and bruising initially that subsides gradually over a week or so. To keep this at a minimum:
Keep the head elevated at all times, even while sleeping
Wear the compression garment continuously for 5 days and then at night for 3 weeks
Avoid bending over
Unusual Sensations
For many patients, the following sensations are temporary and a normal part of the healing process:
Mild facial numbness may take a few months to dissipate.
Tightness in the neck muscles.
Please contact our office if you have any concerns about unusual sensations after your surgery.
Check In With Your Doctor
Dr. Weiler, Dr. Daugherty, and Dr. Hogan like to see facelift patients the following day to remove the dressings and assess the incisions. During this appointment, he or she will address any concerns you have, answer your questions, and review instructions for optimal recovery.
Most of the stitches will be removed within 5 to 7 days. The sutures behind your ears will be removed from 2 to 3 weeks after surgery.
Return to Your Routine
Patients typically are ready to return to work and normal activities within 5 to 7 days and be "party presentable" in 2 to 3 weeks. Strenuous exercise should be avoided for several weeks and should be resumed only as directed by your doctor.
Will I Have Visible Scars From a Facelift?
Scars cannot be avoided with any type of surgery; however, when created by a plastic surgeon, scars are thoughtfully concealed and as short and thin as possible. Our plastic surgeons perform most facelift procedures using a small incision placed in a natural crease around each ear and another in a crease hidden under the chin.
Weiler Plastic Surgery Named a Top 25 Provider Nationwide
Aesthetics industry leader Allergan has honored Weiler Plastic Surgery in 2021 as one of their Top 25 Providers nationwide out of more than 50,000 aesthetic practices in the United States.
As a proud partner of Allergan, who provides us with BOTOX®, JUVÉDERM®, CoolSculpting®, and Natrelle® breast implants, we remain one of Louisiana's top aesthetic practices!
2021 Winner of Best Plastic Surgeon in Baton Rouge
225 Magazine's 16th Annual "Best of 225" Awards
You made Weiler Plastic Surgery your choice for Best Plastic Surgeon in 225 Magazine's 16th annual "Best of 225" awards. More than 13,000 Capital Region residents cast their votes, selecting us as the team they trust to bring out their very best and make them feel at home each step of the way.
Frequently Asked Questions
How Much Is a Facelift in Baton Rouge & New Orleans?
The cost of a facelift varies depending on several factors, including the extent of the procedure, the surgeon's training and experience, and the practice's geographic location. The type of anesthesia used also influences the cost of a facelift. A general anesthetic is costlier than the technique we use. We provide patients a detailed facelift price quote after the consultation. We offer a number of financing options to help make cosmetic surgery accessible to as many people as possible.
Is Facelift Surgery Safe?
When performed by a highly trained and experienced board-certified plastic surgeon, facelift surgery is very safe. Our plastic surgeons increase safety by performing facelift surgery using local anesthetic instead of general anesthetic.
What's the Best Age To Get a Facelift?
Instead of focusing on age, think about your concerns when considering a facelift. If you're bothered by sagging cheeks, jowls, and lax skin on the neck, a facelift can make a lasting difference. For additional considerations, review this blog post.
Is a facelift permanent?
Though a facelift is not a permanent solution to aging, it can set back the clock by several years. Once the swelling has gone down and you've healed, you can fully appreciate the results. Facelift surgery rejuvenates the face and gives it a fresher appearance. With proper care, expect your refreshed look to last 5 to 10 years.
What is a mini facelift?
A mini facelift is a technique that can be appropriate for patients with less pronounced signs of aging. It's sometimes called a short-scar facelift because, as the name implies, the incisions are shorter than those made for a full facelift. Because it is a less invasive technique, the improvements are more limited than what can be achieved with a traditional facelift.
Will my facelift look natural?
Your facelift results will depend on the training, experience, and talent of the plastic surgeon. Our plastic surgeons use advanced techniques to give patients a naturally rejuvenated look, instead of the tight, windblown appearance you might be worried about.
I'm hearing a lot about thread lifts; what is this procedure and is it a viable facelift alternative?
A thread lift is a nonsurgical procedure that elevates sagging facial tissues and skin with strong, absorbable sutures  inserted through tiny holes in the skin with a special instrument. Lax skin is not removed so this procedure is best for patients with mild to moderate signs of aging. Results are subtle and temporary. It's best to discuss the available options with your surgeon to help you make an informed decision.
A Reputation Built on Results
Next Step
Are you ready to find out how the Timeless Face procedure can rejuvenate your look? If you're interested in facelift surgery in the Baton Rouge and New Orleans area, request a consultation at Weiler Plastic Surgery or call (225) 399-0001 for an appointment.