Baton Rouge
Weiler Plastic Surgery
4212 Bluebonnet Boulevard Suite A
Baton Rouge, LA 70809
Phone: (225) 399-0001
Mon - Thur: 7:30 a.m.–5 p.m.
Fri: 7:30 a.m.–4 p.m.

Baton Rouge - Downtown
Weiler Plastic Surgery
240 Laurel Street Suite 202
Baton Rouge, LA 70801
Phone: (225) 399-0011
Mon - Thur: 7:30 a.m.–4 p.m., Fri: 8:00 a.m.–3p.m

Hammond
Weiler Plastic Surgery
42078 Veterans Avenue Suite H
Hammond, LA 70403
Phone: (985) 902-7770
Mon - Thur: 8:30 a.m.–5 p.m.
Fri: 8:30 a.m.–4 p.m.

Denham Springs
Weiler Plastic Surgery
921 South Range Avenue
Denham Springs, LA 70726
Phone: (225) 900-7002
Mon - Thur: 8:30 a.m.–5 p.m.
Fri: 8:30 a.m.–4 p.m.

ThermiVa®
Vaginal Rejuvenation Without Surgery
While many women may not talk about, it's completely normal to be concerned about your feminine health and the state of your genital tissue after childbirth. Between childbirth and age, your vaginal and surrounding tissues can take a beating, leaving you less than satisfied with your body. But there is now a nonsurgical option for vaginal rejuvenation that can improve these tissues safely and effectively called ThermiVa, available in Baton Rouge at Weiler Plastic Surgery.*
The natural aging process and having children may cause changes that affect women's feminine wellness. The effects of menopause, vaginal childbirth, and multiple births can cause physical changes that impact women and their partner's quality of life and sexual health.
With ThermiVa, you can enjoy an improved sense of wellbeing, aesthetically and sexually. Improve the appearance of your genital area, get enhanced sensation, and enjoy having sex again — all without any surgery! State-of-the-art vaginal rejuvenation technology now available at Weiler Plastic Surgery.
What Is ThermiVa® Nonsurgical Vaginal Rejuvenation?
ThermiVa is a new non-surgical treatment that rejuvenates the vagina and vulva, without plastic surgery.
ThermiVa, an advanced radio frequency technology, is a safe and precise treatment that can restore the appearance of your labia majora and minora. In addition, the treatment can dramatically tighten the tissue of your canal without surgery.
Dual Board-Certified Plastic Surgeon
Dr. Jonathan Weiler
Extensively trained and experienced in cosmetic surgery of the face, breasts, and body, Dr. Weiler takes pride in bringing state-of-the-art techniques to his home state of Louisiana. His genuinely caring personality enables patients to connect and share their concerns with him for truly personalized results.
With a rare combination of exceptional credentials and a down-to-earth, caring personality, Dr. Weiler transforms aesthetic visions into reality. He offers procedures for the face, breasts, and body, including specialized techniques that minimize pain and recovery time.
Dual Board-Certified Plastic Surgeon
Dr. Robyn Daugherty
A fellowship-trained, board-certified plastic and reconstructive surgeon, Dr. Daugherty brings exceptional surgical abilities and a woman's touch to Weiler Plastic Surgery. As the mother of 3 young sons, including twins, she understands first-hand the effects pregnancy and breastfeeding can have on a woman's body and self-image. Dr. Daugherty is excited to help her patients–both women and men–feel more attractive and confident.
Meet Dr. Daugherty
On top of that, the device can improve the health of your vulvovaginal area, particularly after you've given birth or are in your latter years — childbirth and the natural aging process can cause changes that affect your feminine wellness, which makes ThermiVa a great option for women who want to reverse these damaging effects. It is a popular choice for our Mommy Makeover patients as well.
Childbirth: A particularly strenuous vaginal childbirth, or multiple births, can cause stretching of the vaginal canal. Pregnancy and giving birth can also loosen and stretch the tissues, causing the labia majora and labia minora (the outer and inner lips of the female genitalia) to stretch and sag.
Aging: Aging and the effects of menopause can cause physical and functional changes, such as excessive dryness, loss of vaginal sensation during intercourse and hanging, saggy labia. The vagina can also loosen as a common sign of age.
Both conditions can rob you (and your partners) of your sense of well-being and happiness. It can also lead to mild to moderate stress incontinence and an over-active bladder, causing embarrassing situations while laughing or performing certain activities.
Is ThermiVa Safe?
The procedures lasts about 45 minutes to an hour using radiofrequency energy that gently heats the outer and inner vaginal tissue, causing immediate contraction of collagen. This result is in immediate collagen remodeling and elasticity. Collagen naturally decreases with age and can be affected by processes like childbirth, but with this specially designed process, you can improve your personal well-being once again. The ultimate benefits to the patients are rejuvenated collagen without any anesthesia, discomfort, or downtime.
Designed for outer labia and the vaginal canal
Single-use, nonsurgical radiofrequency applicator
Temperature controlled – no burns reported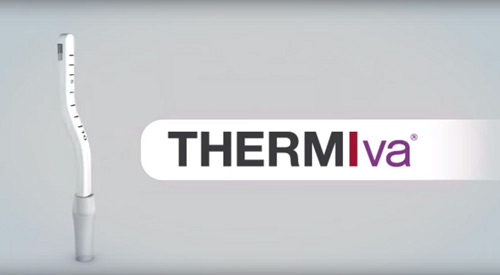 Are You A Good Candidate For ThermiVa?
Dry vagina
Loose vagina
Leaky bladder
Fallen bladder or rectum
Concerns with achieving orgasm
Aesthetic concerns with labia