miraDry®
Feel clean and confident in any situation, all year long. Throw your antiperspirant away forever.
If you reapply your deodorant more than once a day, miraDry is for you!
For many people, underarm sweating is not only uncomfortable, but embarrassing as well.  Underarm sweat may be causing you to shy away from social events where people might see your sweat stains, losing confidence in the workplace due to foul-smelling body odor, or not being able to wear your favorite top.  Special, highly-potent deodorants can only help so much.
If you're tired of underarm sweating, then miraDry is for you.
Although miraDry can help men and women with the most severe sweat and odor issues, this treatment is for ANYONE who wants to feel clean and confident all day without having to apply deodorant.
miraDry is the first and only nonsurgical treatment to permanently reduce your underarm sweat glands and odors.* FDA cleared and CE marked, the miraDry treatment is a quick office procedure that only takes about an hour. miraDry is shown to be effective in treating excessive underarm sweating, as well as foul-smelling sweat.
What does this mean for you? It means that you can reclaim your confidence and feel great all day, any day. The miraDry procedure helps to not only reduce the amount of underarm sweat your body produces, but also the smell. No more checking to see if you're the one emitting the body odor and no more worrying about offending those around you when you're just walking down the street. Not only will miraDry help bring back your confidence, it'll also help to protect your clothing from terrible armpit stains and smells that just won't go away. You won't have to worry about ruining your favorite shirt, or your date noticing that you're nervous. After your treatment, you can expect to see immediate and lasting results.*
Weiler Plastic Surgery Named a Top 25 Provider Nationwide
Aesthetics industry leader Allergan has honored Weiler Plastic Surgery in 2021 as one of their Top 25 Providers nationwide out of more than 50,000 aesthetic practices in the United States.
As a proud partner of Allergan, who provides us with BOTOX®, JUVÉDERM®, CoolSculpting®, and Natrelle® breast implants, we remain one of Louisiana's top aesthetic practices!
A Talented Trio
Our 3 board-certified plastic surgeons are proud to offer their unique talents to women and men in their home state of Louisiana. Dr. Jonathan Weiler's vision of delivering state-of-the-art techniques is shared by Dr. Robyn Daugherty and Dr. M'liss Hogan, who each bring skill, experience, and a woman's touch to Weiler Plastic Surgery. As mothers themselves, Dr. Daugherty and Dr. Hogan both understand the effects pregnancy and breastfeeding can have on a woman's body and self-image.
Credentials you can trust:
How does miraDry work?
This nonsurgical treatment involves a handheld device that functions on electromagnetic technology to send energy beneath the underarm skin in the specific area where the sweat glands are located. This process destroys the sweat glands, while the top layers of the skin are simultaneously cooled and protected. Once you have gone through the procedure, the results are immediate and long lasting. However, in order to target all of the sweat glands we advise that 2, or sometimes 3, treatments may be necessary.
Are you a good candidate for miraDry?
Candidates for this nonsurgical treatment have a variety of goals, which include:
Controlling excessive underarm sweating
Feeling confident and clean in any social event and the workplace
Avoiding the use of toxins that cause long-term health issues
Saving money on dry cleaning by reducing sweat and deodorant stains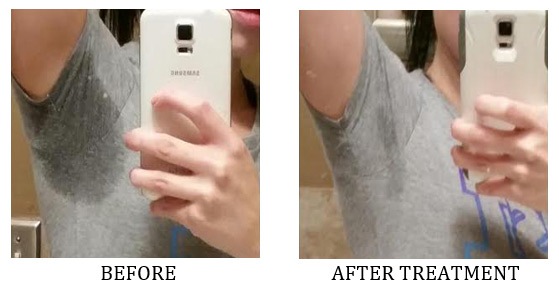 You will no longer have to worry about ruining your favorite shirt from sweat stains, and you will gain the boosted confidence of going through your everyday life with dry, comfortable underarms. Photo courtesy of miraDry.
A Reputation Built on Results
2021 Winner of Best Plastic Surgeon in Baton Rouge
225 Magazine's 16th Annual "Best of 225" Awards
You made Weiler Plastic Surgery your choice for Best Plastic Surgeon in 225 Magazine's 16th annual "Best of 225" awards. More than 13,000 Capital Region residents cast their votes, selecting us as the team they trust to bring out their very best and make them feel at home each step of the way.