EMSCULPT®

If you hit the gym to improve your body, you know that you don't have a lot of options for reducing fat and improving your muscle tone at the same time—especially when it comes to your abs. But the men and women who visit Weiler Plastic Surgery have access to new technology that provides a great alternative—EMSCULPT. In Baton Rouge, this liposuction alternative is a nonsurgical fat reduction solution that goes a step beyond by also improving muscle tone. Weiler Plastic Surgery is the first practice in Baton Rouge to offer EMSCULPT, and we've received extensive training on this state-of-the-art technology. Our experience makes us uniquely qualified to provide the safe, beautiful results our patients want, and we're very excited about the possibilities we can offer with EMSCULPT.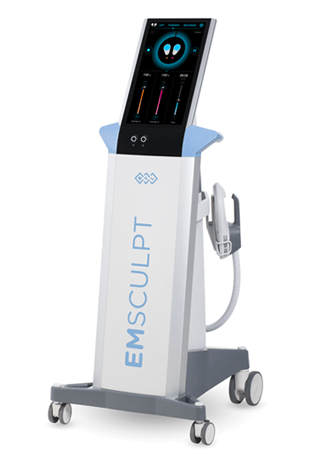 What is EMSCULPT?
EMSCULPT is an energy-based nonsurgical device that uses high-intensity electromagnetic energy to simultaneously reduce fat deposits and improve muscle tone. The treatment causes muscle contractions, which build muscle and cause fat cells to implode. This 2-pronged benefit leads to deep improvement that previously could only be achieved with exercise.
Are You a Candidate?
EMSCULPT is safe for most people who want to achieve both visible fat reduction and improved muscle tone in the abdomen, buttocks, calves, and arms. Because it is completely non-invasive, EMSCULPT is safe for most prospective patients. It is important to note, however, that EMSCULPT does not control excess skin. Moderate to severe skin laxity is more likely to be remedied by surgical tummy tuck or other lift procedures, which can treat loose skin, excess fat, and weakened muscles at once.
In some cases, we may determine that you're a better candidate for another nonsurgical body contouring option, such as CoolSculpting®. Additionally, EMSCULPT can complement and improve the results of some of our most popular procedures. For example, combining EMSCULPT with SculpSure® optimizes the maximum potential for reducing fat and building muscle. On the other hand, some patients chose to combine EMSCULPT with a Brazilian butt lift procedure for even more enhancement. We offer many options, and by knowing your aesthetic goals, we can create a treatment plan to provide the results you want.
Which Areas Can Be Treated With EMSCULPT?
While EMSCULPT was originally FDA-cleared to treat the abdomen and buttocks, the device is now even more versatile, offering ways to tone even more of your body. With the help of attachments designed to fit smaller regions, such as the arms, EMSCULPT can effectively build up muscle and provide enhanced definition and fat metabolism in the following areas:
Abdomen: Flatten your stomach and define your ab muscles.
Buttocks: Lift and enhance your buttocks.
Calves: Shape and tone your lower legs.
Biceps: Sculpt and strengthen your arms.
Triceps: Build up muscle beyond what you can achieve in the gym.