CoolSculpting® Elite

Since its introduction more than 10 years ago, CoolSculpting's groundbreaking fat reduction treatment has been the gold standard for nonsurgical body sculpting. Now, Weiler Plastic Surgery offers the next generation of CoolSculpting in Baton Rouge, Covington, and Hammond, LA, with FDA-cleared CoolSculpting Elite, which promises faster, more effective procedures using re-imagined applicators.
Weiler Plastic Surgery Named a Top 25 Provider Nationwide
Aesthetics industry leader Allergan has honored Weiler Plastic Surgery in 2021 as one of their Top 25 Providers nationwide out of more than 50,000 aesthetic practices in the United States.
As a proud partner of Allergan, who provides us with BOTOX®, JUVÉDERM®, CoolSculpting®, and Natrelle® breast implants, we remain one of Louisiana's top aesthetic practices!
Who Gets CoolSculpting Elite? Who Is a Candidate for CoolSculpting Elite?
People from Lafayette, LA, and cities in the Baton Rouge region who have areas of stubborn fat that keep them from looking fit and youthful—despite working out and eating right—can see excellent results with CoolSculpting Elite treatments. Our highly trained medical spa specialists are CoolSculpting experts who treat patients bothered by muffin tops, belly bulges, double chins, or annoying bulges in other areas of the body. The best candidates for CoolSculpting Elite treatments are already close to their target weights but have fat pockets that resist exercise and diet and those who struggle with stubborn fat pockets caused by aging and major life events such as childbirth. CoolSculpting Elite is not designed to help patients lose weight.
The benefits of CoolSculpting Elite include:
The only treatment cleared by the FDA to reduce stubborn fat in 9 different areas
Clinically proven to eliminate up to 25% of treated fat cells with each treatment
Targets 2 treatment areas at the same time with its redesigned dual applicators
Which Areas Can You Treat With CoolSculpting Elite?
Elite takes CoolSculpting to another level as the first nonsurgical fat reduction procedure cleared by the FDA to target 9 distinct areas. With its redesigned applicators, CoolSculpting Elite can treat:
Below the jawline
Under the chin
Bra fat
Upper arms
Back fat
Flanks
Abdomen
Banana roll (just below the buttocks)
Inner and outer thighs and the backs of thighs
2021 Winner of Best Plastic Surgeon in Baton Rouge
225 Magazine's 16th Annual "Best of 225" Awards
You made Weiler Plastic Surgery your choice for Best Plastic Surgeon in 225 Magazine's 16th annual "Best of 225" awards. More than 13,000 Capital Region residents cast their votes, selecting us as the team they trust to bring out their very best and make them feel at home each step of the way.
How Does CoolSculpting Elite Work?
The science behind CoolSculpting Elite is the same process used in traditional CoolSculpting. It destroys fat cells that lie right below the skin using controlled cooling on the skin's surface. Because fat cells are more sensitive to cold than other
tissues, the cooling causes fat cells to die, leaving other tissues unharmed. Treated areas gradually slim as the body's natural cleansing processes flush away the damaged fat cells.
What makes CoolSculpting Elite different are the reconfigured applicators that are specially designed for specific areas and the ability to treat more than one area at a time, cutting the treatment time in half.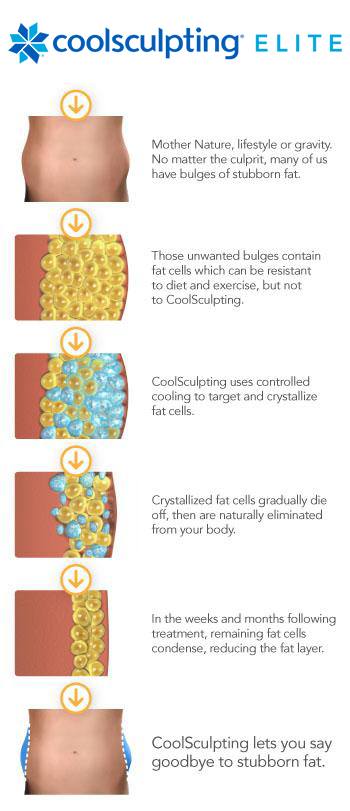 What Makes Weiler Plastic Surgery A Good Choice For CoolSculpting Elite?
We are an established plastic surgery practice with a reputation for excellent patient care and safety. There are many reasons people choose us for CoolSculpting, including:
Expertise: All CoolSculpting Elite treatments are performed by an experienced specialist who completed specialized training at the prestigious CoolSculpting University.
More choices: While some practices only offer CoolSculpting, we are qualified to offer multiple fat reduction options—nonsurgical and surgical. With 2 on-site board-certified plastic surgeons and an array of the latest aesthetic devices, we will recommend Coolsculpting only if it is the right fit for you.
Optimal results: We have a variety of the latest applicators to fit and effectively treat just about every area of concern.
Convenience: We have 2 CoolSculpting Elite machines, so we can treat 4 areas at the same time, which can dramatically reduce treatment times.
How Are the CoolSculpting Elite Applicators Different?
CoolSculpting Elite's re-engineered applicators fall into one of 3 categories (shown left to right in the above image):
Curve Series
These snug-fitting applicators have a C-shaped cup that enhances the suction used to draw fat up between the CoolSculpting Elite panels, treating up to 18% more surface area than traditional CoolSculpting applicators. This leads to more even results and faster treatment times. The curve series addresses fat under the chin (a double chin), below the jawline, on the flanks, and on the abdomen, as well as back fat, bra fat, and banana rolls under the buttocks.
Flat Series
Straight, vertical areas of pinchable fat, such as on the upper arms and inner thighs, are targeted by 2 specially designed applicators.
Surface
The outer thighs and the upper abdomen are areas where excess fat is difficult to pinch. CoolSculpting Elite's surface applicator is attached to the skin's surface but does not use suction.

Should I Get CoolSculpting, EMSCULPT®, Liposuction, Or A Tummy Tuck?
CoolSculpting, EMSCULPT, liposuction, and tummy tuck procedures all involve fat reduction, but each offers its own benefits. During your personal consultation, we will discuss your desired improvements and recommend the appropriate procedure options, which may be performed individually or in combination.
BODY CONTOURING PROCEDURE COMPARISON
Procedure
Benefits
Anesthetic
Recovery Time
Exercise Again
See Results
Number of Treatments
NONSURGICAL
CoolSculpting® Elite
Reduces fat
None
None
Right away
1 to 3 months
1 to 2
EMSCULPT
Reduces fat
Tones muscle
None
None
Right away
2 weeks
Series
SURGICAL
Liposuction
Reduces fat
Local or general
2 days
2 weeks
Right away (improvement as swelling fades)
1
Tummy tuck
Reduces fat
Tightens skin
Repairs ab muscles
General
2 weeks
6 weeks
Right away (improvement as swelling fades)
1
What Happens During a CoolSculpting Elite Treatment?
A CoolSculpting Elite treatment is very similar to traditional CoolSculpting, but it's faster if you're treating more than a single area. We begin the treatment by placing the applicator over the area of fat. Depending on the applicator used, you may feel suction, then intense cold, and possibly a prickly sensation until the skin goes numb. The rest of the treatment is typically comfortable enough for you to relax, use electronic devices, or read.
How Long Does a CoolSculpting Elite Treatment Take?
Treatment times vary, depending on the size and number of areas you want to address, which applicator is used, and whether we use one or both machines. Some areas can be treated in as little as 35 minutes, but your provider will let you know how long to expect treatment to last.
What Can I Expect After CoolSculpting Elite?
After CoolSculpting, treated areas may be slightly red, swollen, sensitive, and/or tingly temporarily. It is normal for areas to be sore but not enough to interrupt your daily activities and exercise routine.
How Long Does It Take to See CoolSculpting Elite Results?
Treated areas begin to slim about a month after treatment with continued improvement for about 3 months as treated fat cells are naturally flushed away.
How Many CoolSculpting Elite Treatments Are Needed
Many patients attain the results they want with just one treatment, although in some cases, a second treatment is needed for more complete results.
Is CoolSculpting Elite Safe?
This treatment is FDA-cleared for reducing fat in a variety of areas. When performed by our highly trained practitioners, CoolSculpting treatments are considered very safe.
A Reputation Built on Results