Baton Rouge
Weiler Plastic Surgery
4212 Bluebonnet Boulevard Suite A
Baton Rouge, LA 70809
Phone: (225) 399-0001
Mon - Thur: 7:30 a.m.–5 p.m.
Fri: 7:30 a.m.–4 p.m.

Baton Rouge - Downtown
Weiler Plastic Surgery
240 Laurel Street Suite 202
Baton Rouge, LA 70801
Phone: (225) 399-0011
Mon - Thur: 7:30 a.m.–4 p.m., Fri: 8:00 a.m.–3p.m

Hammond
Weiler Plastic Surgery
42078 Veterans Avenue Suite H
Hammond, LA 70403
Phone: (985) 902-7770
Mon - Thur: 8:30 a.m.–5 p.m.
Fri: 8:30 a.m.–4 p.m.

Denham Springs
Weiler Plastic Surgery
921 South Range Avenue
Denham Springs, LA 70726
Phone: (225) 900-7002
Mon - Thur: 8:30 a.m.–5 p.m.
Fri: 8:30 a.m.–4 p.m.

KYBELLA®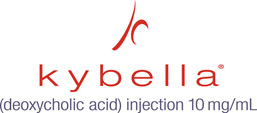 When you look in the mirror, are you constantly staring at that double chin? KYBELLA® is the first and only FDA-approved injection to improve the appearance of moderate to severe sub-mental fullness. This product, made of deoxycholic acid, is injected under a patient's chin to destroy fat cells in order to minimize the appearance of your double chin.* This procedure typically takes about two treatments, lasting about 20 minutes each.
How KYBELLA Works
KYBELLA has an active ingredient that aids in the destruction of fat cells.* This product is indicated for use to the area under the chin, called submental fat, and also, more commonly known as a "double chin." Does this stubborn area bother you? If so, maybe it's time to try KYBELLA.
View Before & After Photos
You don't have to let genetics or your past weight concerns win the "double chin" battle; you have the ability to take control of how you look. With this innovative and simple injection, you can fight of stubborn under-chin fat that leads to the "double chin" look. No matter how hard to workout or how well you eat, sometimes this fat accumulation is simply impossible to avoid. But you don't have to worry when you opt for KYBELLA treatments at Weiler Plastic Surgery. You'll see substantial results* that will have you saying wow when you look in the mirror.
KYBELLA should always be administered by a health care provider.
Weiler Plastic Surgery Named a Top 50 Provider Nationwide
Aesthetics industry leader Allergan has honored Weiler Plastic Surgery in both 2020 and 2021 as one of their Top 50 Providers nationwide, out of over 35,000 aesthetic practices from coast to coast.
As a proud partner of Allergan, who provides us with BOTOX®, JUVÉDERM®, CoolSculpting®, and Natrelle® breast implants, we remain one of Louisiana's top aesthetic practices!
A Reputation Built on Results