Baton Rouge
Weiler Plastic Surgery
4212 Bluebonnet Boulevard Suite A
Baton Rouge, LA 70809
Phone: (225) 399-0001
Mon - Thur: 7:30 a.m.–5 p.m.
Fri: 7:30 a.m.–4 p.m.

Baton Rouge - Downtown
Weiler Plastic Surgery
240 Laurel Street Suite 202
Baton Rouge, LA 70801
Phone: (225) 399-0011
Mon - Thur: 7:30 a.m.–4 p.m.
Fri: 8:00 a.m.–3p.m

Hammond
Weiler Plastic Surgery
42078 Veterans Avenue Suite H
Hammond, LA 70403
Phone: (985) 902-7770
Mon - Thur: 8:30 a.m.–5 p.m.
Fri: 8:30 a.m.–4 p.m.

Denham Springs
Weiler Plastic Surgery
921 South Range Avenue
Denham Springs, LA 70726
Phone: (225) 900-7002
Mon - Thur: 8:30 a.m.–5 p.m.
Fri: 8:30 a.m.–4 p.m.

Covington
Weiler Plastic Surgery
1431 Ochsner Blvd Suite B
Covington, LA 70433
Phone: (985) 590-3488
Mon - Fri: 8:00 a.m.–4 p.m.

Pellevé®
If your skin is showing signs of aging, Weiler Plastic Surgery offers simple, painless treatments with the Pellevé RF Wrinkle Reduction system in the Baton Rouge area. These non-invasive treatments renew the skin's natural beauty with safe, effective radiofrequency energy and no downtime.
Before & After Pellevé Treatment on the Forehead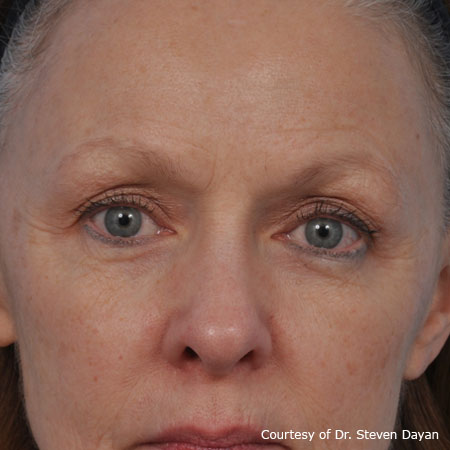 What Is Pellevé?
Pellevé is a completely nonsurgical treatment that is safe for all skin types. It addresses signs of aging that commonly include:
Forehead lines and creases
Crow's feet at the outer corners of the eyes
Frown lines between the eyebrows
Lines around the lips
Wrinkled, crepey skin under the eyes and on the cheeks and neck
Other wrinkle treatments we offer include microneedling and injectables like BOTOX® Cosmetic. Your provider will talk with you about your options and create your personalized treatment plan during your consultation.
Weiler Plastic Surgery Named a Top 50 Provider Nationwide
Aesthetics industry leader Allergan has honored Weiler Plastic Surgery in both 2020 and 2021 as one of their Top 50 Providers nationwide, out of over 35,000 aesthetic practices from coast to coast.
As a proud partner of Allergan, who provides us with BOTOX®, JUVÉDERM®, CoolSculpting®, and Natrelle® breast implants, we remain one of Louisiana's top aesthetic practices!
How Does Pellevé Work?
Pellevé treatments release radiofrequency (RF) energy that passes through the surface of the skin and heats the deeper layers. Existing collagen in the skin contracts and the production of new collagen is stimulated. Gradually, the skin becomes smoother and firmer as collagen is produced.
What to Expect

We perform Pellevé as an office treatment. Treatments take about 30 minutes to complete; your actual treatment time will vary with the areas you want to address. After applying gel to the skin, the practitioner smooths the handpiece across the skin as the tip gradually warms. Most patients say the treatment is relaxing, not hot or painful. After making several passes over the targeted areas, your skin will be gently cleansed. It may look slightly red for the first few hours. You can return to your normal daily activities right away; no downtime is needed.
While the skin might look slightly tighter right away from the collagen contracting, the more noticeable improvements develop gradually over the following weeks as new collagen develops.
How Many Pellevé Treatments Will I Need?
We typically recommend 3 to 4 treatments spaced approximately 1 to 2 months apart; however, some patients attain their desired results with just a single treatment.
A Talented Trio
Our 3 board-certified plastic surgeons are proud to offer their unique talents to women and men in their home state of Louisiana. Dr. Jonathan Weiler's vision of delivering state-of-the-art techniques is shared by Dr. Robyn Daugherty and Dr. M'liss Hogan, who each bring skill, experience, and a woman's touch to Weiler Plastic Surgery. As mothers themselves, Dr. Daugherty and Dr. Hogan both understand the effects pregnancy and breastfeeding can have on a woman's body and self-image.
When you come to Weiler Plastic Surgery for all your cosmetic appearance needs, you will always get only the best service and the most elite products. We only choose products that provide real results* for all of our clients. Whether you want to have plastic surgery or you're looking for non-invasive options, such as body sculpting, we can provide you with the best treatments for your needs. Learn more about Pellevé by requesting a free consultation online at one of our Louisiana clinics today.
A Reputation Built on Results