Breast Augmentation
Breast augmentation is designed to uplift and enhance the breasts. For patients who are looking to increase the size or appearance of their breasts, a breast augmentation procedure can be an excellent option. A breast augmentation can also fill a woman's breast that has become deflated after weight loss or childbirth, providing an enhanced appearance.* This cosmetic surgery will provide you with a natural look to enhance your body image and overall self-confidence. Dr. Weiler will work with you to help you achieve the look and feel that you've always wanted.*
There are two primary implant options for breast augmentation: silicone breast implants or saline breast implants.
Saline
0.9% Injectable NaCl
Filled by surgeon
Adjustable size and overfill
Firmer
Wrinkling and rippling more common
Deflation visible
Silicone Gel
Silicone gel matrix
Prefilled by manufacturer
Softer, more natural feel
Less wrinkling and rippling
"Silent rupture" risk
Incision Placement
Dr. Weiler places the implants below the chest muscle through a small incision approximately 4 cm long. The incision for a breast augmentation is placed under the fold of the breast and hides very well under swimsuits and undergarments. Within a few months the scar is virtually invisible.*
Your Surgical Experience
This procedure is performed at Weiler Plastic Surgery under general anesthesia on an outpatient basis. Patients will need someone to drive them home after surgery and stay with them for a day or two. After the procedure, patients are placed in a bra garment that is to be worn at all times for six weeks.
Are You A Good Candidate For Breast Augmentation?
Small or asymmetrical breasts

Pregnancy, weight loss, or aging has affected the size and shape of your breasts

You desire a better proportioned or more appealing figure

You're looking for cosmetic improvements after breast reconstruction
Try on a virtual aesthetic treatment simulation from home by uploading your photos
---
The Consultation Process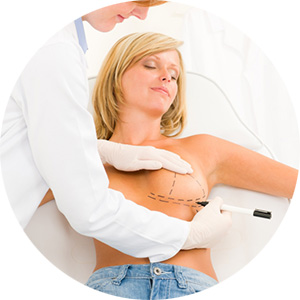 Dr. Weiler and his office staff will assist in making your surgical experience as easy and comfortable as possible. You will be able to discuss your areas of concern and goals for breast augmentation surgery. A physical exam will be done to access your breasts and you will be given a recommendation for the most effective procedure to meet and exceed your expressed goals, as well as alternative treatments.* At Weiler Plastic Surgery, we like for you to take as much time as you need to have all of your questions answered. Your satisfaction, desires, and goals are our primary concern.

What to Expect After Surgery
Patients return to the office for their initial follow-up at seven days for suture removal. At this time, concerns are addressed and further instructions are reviewed for optimal recovery. You should expect some swelling and possible bruising which will subside within a few weeks.

Post-Op Activity Restrictions
Recovery time after a breast augmentation procedure is anywhere from one to three days. Most patients are able to return to work within the first week following surgery.* Two weeks following your breast augmentation you can begin to ease back into light physical activity, but you must avoid all chest exercises. After six weeks, most patients are able to resume their normal exercise regimens with no restrictions.